Barbara Vassallo grew up in Endicott, NY but had moved away. When she returned 8 years ago, she and her family moved to Corning from the DC area and found that a lot of what she remembered the Finger Lakes to be had changed. She immediately fell in love with Market Street and all the great things happening in the Finger Lakes with the local food movement.
Barbara's grandmothers showed her how to crochet and embroider as a young girl. She then taught herself to knit as a teenager. After being out of the workforce for 15 years, Barbara spent a lot of time thinking about what to do next, though she'd like to say that the answer was in her hands all along…yarn.
Her newly open business name, Rabbit Row Yarns & Haberdashery, stems from her maiden name (Haas), which means rabbit in German; Row, which is a combination of knitting/stitching in 'rows'; and her mom's nickname: 'Ro,' short for Rosemarie, all of which bring family nostalgia to her business.
Today, Rabbit Row is a brick-and-mortar shop in Corning's Gaffer District that sells sustainably sourced fiber and needlecraft supplies. It was important for Barbara to find a way to distinguish her shop from other yarn shops and big-box craft retailers. She had been researching sustainable fiber materials, and quickly learned that most US wool is shipped across the world for processing and dyeing to countries not so concerned with the environment or fair labor treatment – only to be shipped back to the US. Further reading led her to find that there is so much going on in the sustainable fiber world here in NY and she wanted to be a bigger part of it.
Barbara works with as many US sheep farms, fiber mills, and dyers as she can. Her aim is to intentionally curate traceable materials so customers can feel good about knowing where their supplies come from and how they are made. In addition to yarn, Rabbit Row also sells supplies for needle felting, embroidery, darning/mending and even dyeing fiber. They also offer classes in each of these disciplines. 
 Rabbit Row pulls in a lot of local fiber/needle crafters, but she admits she also heavily markets to tourists. She wants her shop to be unique enough to draw people from out of town looking for local yarns and fiber. In talking to customers who visit from far away, she estimates that nearly half of her business to date stems from beyond the Corning-Elmira area. 
IncubatorWorks caught up with Barbara to learn about her experience through our business development program and the lessons she learned along the way.
IncubatorWorks: At what stage in your business did you connect with IncubatorWorks? How did you hear about us? 
Barabara Vassallo: My husband served on a non-profit board with Nancy Kirby and was familiar with IncubatorWorks.  Last summer, we were working on financial models for the business, and he suggested we ask Nancy for some advice.  They both encouraged me to sign up for mentoring and Co.Starters. 
IW: What were you looking for when you signed up for the Co.Starters program? 
BV: To be honest, I thought I had everything figured out [as a small business owner] and didn't really know what I was looking for from Co.Starters. I am generally a very thorough person and research the heck out of any topic. I couldn't have been more wrong and was part of THE BEST cohort. I learned so much from each of my classmates and how they were approaching their new business ventures. It surprised me early on how supportive everyone was; we had a great dynamic.  The coursework was invaluable to me – especially the messaging and financial sections – two areas I hadn't spent enough time on before then. 
IW: Tell us how your business has fared since the pandemic started? Do you think that anything you learned with IW might have helped through this process? 
BV: Rabbit Row opened in November 2021. It was the pandemic, and the shut-down specifically, that told me this was the right time. So many people fell into knitting and other handcrafts during the initial shut-down. Suddenly people were given the gift of time to finally learn a new hobby or go back to one they used to enjoy. Knitting was everywhere – Forbes, the Wall Street Journal, insurance commercials, the Olympics – and no longer just for your grandmother.
IncubatorWorks (both through mentoring and Co.Starters) helped get me to the starting line and to define my messaging. I was most interested in assistance with financial literacy, but during my second meeting with Nancy [Kirby] she said, "You don't know this, but I used to own sheep…". I knew in that instant that working with IncubatorWorks was going to be one of the most important decisions my business made. Fast forward to opening day, and I began carrying fiber and yarn sourced from the flock she used to own in Caton. It doesn't get more traceable than that. 
IW: Tell me about Rabbit Row Yarns. Were there any surprises or things you had not expected when starting your business? Do you feel that IncubatorWorks has helped you in navigating through those? 
BV: Rabbit Row began as a three-month pop-up shop, and this is directly related to my Co.Starters experience. The program encourages you to 'scale' your business idea. I was fortunate to find a space on Market Street in Corning for a short-term lease over the 2021 holidays. I was simultaneously enrolled in the Fall 2021 Co.Starters cohort and was able to bring many questions I was facing into the discussion. I took possession of the space around November 1 and planned to open on November 18. Our [Co.Starters] graduation/Pitch Night was scheduled for that same week but was rescheduled to December 1 – a short burst of breathing space in a busy season. 
As for surprises, I had fully intended to stock yarn from all the farms, fiber mills, and dyers I had been cultivating relationships with over the past year. They were all supportive, but when it came to providing inventory there wasn't enough. Either they didn't have it, or they needed it for their own shops/festivals. I had to pivot very quickly to working with some larger (but still US-based and sustainable) yarn companies that I had also been pursuing. The biggest difference here is that the smaller/local materials were going to be carried in the shop on consignment, with no financial outlay for me – I would pay them quarterly based on sales. These larger companies only sold wholesale – and required payment upon shipment. Because I was only ordering from US companies, there were no supply chain issues that were affecting most retailers. I was able to get a nice mix of local products and more national products with no stockists anywhere near here.
IW: Have you continued your relationship with IW? 
BV: Absolutely! I am trying to keep up with periodic mentoring sessions and will reach out to the staff when I am stumped with something. It is a great resource to help identify how to tackle an issue and get advice on where to turn. I have a couple of customers who are also Co.Starters grads from other cohorts and are asking me for advice. This past week, Kim and Greg [from Co.Starters] had me talk about my marketing efforts to the current cohort – a rewarding experience that I am grateful for. 
IW: What advice would you give a small business owner considering IncubatorWorks business development program? 
BV: There is no downside to becoming involved with IncubatorWorks programs. And while you may think you are too busy starting your business to take the Co.Starters class, you should make the time. It helped me slow down long enough to tailor the best messaging for my business – and the networking opportunities are immeasurable.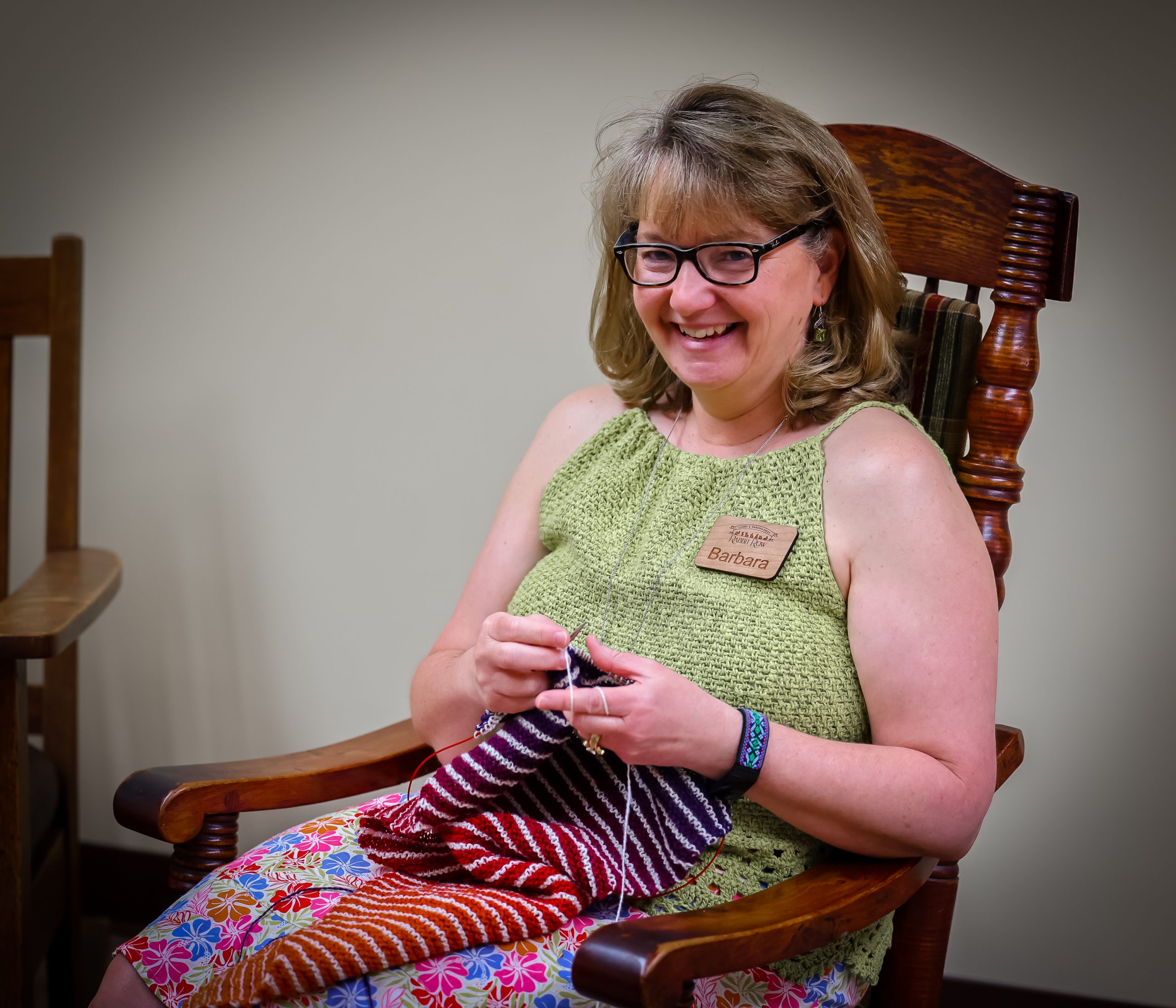 IW: How has being a small business owner impacted your life? What inspiration can you offer to another looking to start their own small business journey?
BV: My whole stay-at-home world has been turned upside down. For at least the first year, I plan to be open 6 days a week – that doesn't give me much personal time, so I'm learning to plan out my mornings before the shop opens. From the business end, I didn't expect to enjoy teaching classes as much as I do. 
I was very fortunate to have had a few hiccups opening Rabbit Row – everything fell in line when I needed it to. But that was because I planned a lot and was open to meeting with everyone who could possibly collaborate with me. Before all that, I spent considerable time thinking about how I wanted to create this business; researching each craft I carry, and conducting customer discovery. Never stop asking what customers want. 
I advised the current cohort not to create/operate their business in a silo. Make the effort to get to know business owners locally and/or out of town; take potential customers out for coffee and chat; meet the local business organizations and/or government officials who can help you; volunteer for some local non-profits. Everyone I encountered wanted me to succeed, and they will find that too!
IW: What else do you want to tell us about your business?
What makes local yarn shops unique is that they are typically more than just a retail stores. They are often a hub for maker communities, and to grow their customer base, shops also teach classes. Rabbit Row is no different. Luckily, my other interest is event planning, and I have had a lot of fun putting together workshops and events. In addition to lessons and assistance in most fiber arts, the shop hosts #StitchCorning every Sunday afternoon. Makers come to the shop to socialize and work on whatever they have in their project bags.  Sometimes we all work on the same pattern (referred to as a 'knit-a-long').  What I'm enjoying most is the varying ages of the makers and the quality of talent in our area. The community element resonates with customers – some who have just moved to the area, and others happy to come out after the pandemic years. 
In February, I participated in a national knitathon and raised over $2000 to help food insecurity organizations.  Organizers planned a 12-hour Zoom program with over 300 knitters, and I simulcast it at the shop. All my chairs were full of knitters for most of the afternoon, and I got coverage on the local news. Our local food bank executive director was scheduled to address the Zoom program. I took a chance and asked if she'd be willing to give her talk from Rabbit Row, and she said yes!  It was great to hear her say she was joining everyone from Rabbit Row Yarns in Corning.  
The event I've been most proud of has been the Twin Tiers Yarn Crawl – an all-day event coinciding with national Local Yarn Store Day that I hosted with three other regional shops.  Each shop had different specials, exclusive dyed yarn, special guests, and giveaways.  Shoppers were encouraged to visit all four shops to complete their 'passport' for a chance to win a big prize.  I had over 120 people visit that day, and receipts were more than four times my best day so far. A huge pick-me-up after a long winter season. As a new business, this was a great way to promote the shop – and the customers loved that we collaborated.
While not every event hits the revenue mark, they are each a way to grow my business.  When I get someone in the shop, it's an opportunity to learn what they'd be interested in doing/buying/learning and how best to reach more people.  Inviting the food bank director to my shop turned into an opportunity to be an instructor at a regional four-day crafting retreat. I took a chance, and it paid off. 
Make sure to check out the fun events listed below being hosted by Rabbot Row!
Every Sunday 1-4 pm: #StitchCorning – bring your portable projects and socialize in the shop. 
Small group and 1:1 lessons and assistance are always available for knitting, crochet, embroidery, spinning, felting, mending, and darning.
Thank you, Barbara for sharing your story with us! Learn more about Rabbit Row Yarns & Haberdashery and how you can support their efforts on their website here.