Emmi Saufley lives in Elmira, NY, the community she has grown up in most of her life. Emmi is the co-founder of Runway For A Cause, a nonprofit organization, and Owner of Le Kim, a clothing line.
Runway For A Cause provides a platform for creative artists to showcase their work at a fashion show while giving back to a chosen charity for that year. Throughout the year they have fundraisers to help give back to their community or surrounding areas to raise awareness or funds for that organization. Random acts of kindness within the community all while setting a good example for those around them.
Le Kim is her clothing line for women's wear. Le Kim is part of her Vietnamese name, Le Thi Kim Thanh. Emmi is an Asian-American adopted by, whom she describes are "two incredibly loving and supporting parents who have blessed me with the best little brother." She describes her clothing line as inspired by the everyday, hard-working woman ready to conquer the world, who is fashion-conscious and seeking recognition for their style being unique and distinctive but not distracting. Clothing that is meant to make you feel confident, bold, and empowered with a color pallet to compliment all skin tones, body types, shapes, and sizes. Personalized, quality made for the sophisticated, strong woman who takes pride in her style.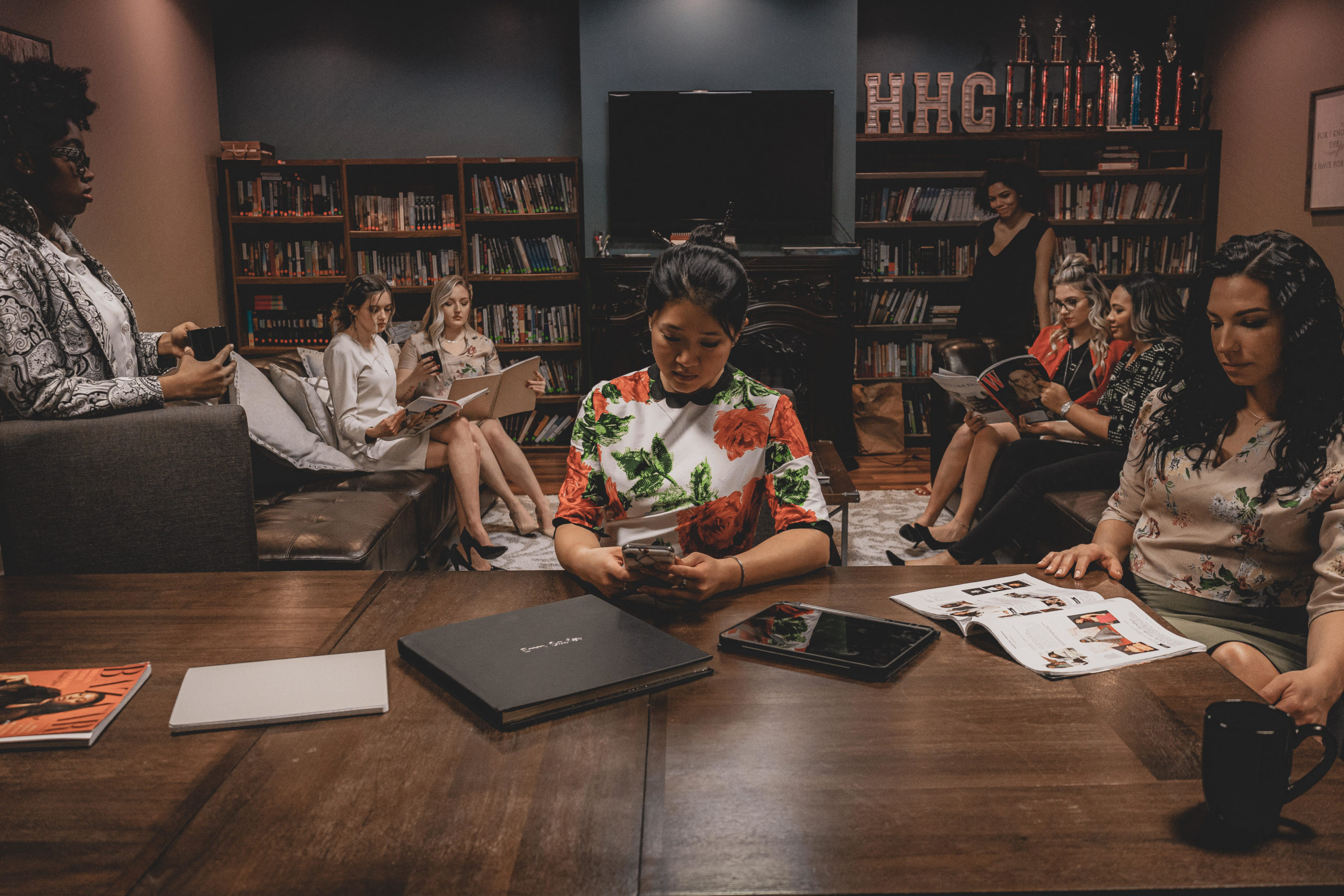 The service area of her businesses is primarily the Southern Tier of NY but Emmi is hoping it can expand into more of upstate NY and the surrounding states. 
We connected with Emmi to learn more about where she is since her time at CoStarters with IncubatorWorks.
IncubatorWorks: At what stage in your business did you connect with IncubatorWorks? 
Emmi Saufley: When I connected with IncubatorWorks for my clothing line Le Kim, I was in the beginning stages of starting my business. I have been designing for 8 years and have put together several collections since I was a junior in high school. Two of my collections have been in the Runway For A Cause annual fashion shows! In preparation for launching my line, IW has given me creditable insight within the business world and has prepared me for a successful clothing line business.
After I had connected with IncubatorWorks, my nonprofit organization was in the process of planning for our second annual fashion show in the fall of 2021. We have been in business since the fall of 2019 and have done a variety of fundraisers giving back to our local community in the Southern Tier and across the states. IncubatorWorks connected me with fellow entrepreneurs, provided credible resources and connections within the community. 
I had originally heard of IncubatorWorks from a family member who works within the business, and they had brought my attention to signing up for the Co.Starters program.
What were you looking for when you signed up for the Co.Starters program?
Signing up for the Co.Starters program I intended to make meaningful connections, become a more well-rounded entrepreneur, and become more educated about having multiple businesses. Having the opportunity to learn from the incredible, supporting team of instructors and fellow business owners was inspiring and motivating to hear how each got started and where they plan to go. Creating a professional, open relationship with my Cohort motivated me to keep pushing through. Looking back at the program I gained more knowledge and connections than I had intended to make and I am forever grateful.
What was the most impactful aspect of it for you? 
My experience with IW was wonderful, informative, and constructive. The most impactful aspect during the program was creating new relationships with my cohort and learning from them and their businesses. It had a positive impact on my businesses because each person had their own interest and contribution to give for what I am doing. Some supported the nonprofit by donating items to raffle off or becoming a valuable sponsor. Others had begun to follow and promote our page and fashion show. 
Tell us how your business has faired since the pandemic started? Do you think that anything you learned with IW might have helped through this process?
Runway For A Cause had definitely taken a step back from actively working within the community and fundraising. We had begun planning for our second show to happen in March of 2020 and had to reschedule for the following year. IW helped me through this process by teaching me how to adapt to our current situations and doing our customer discovery to see what our community needed most. 
As for my clothing line, it has prepared me in knowing how to pivot when having a business that may be affected by uncontrollable situations. Doing customer discovery, and learning from them will guide your business through the rough times and into success. 
Runway For A Cause hosted their second annual fashion show on Saturday, October 2nd 2021 with their chosen charity being Chemung County Habitat for Humanity. The program helped me work with my committee to plan for a successful fashion show. 
Have you continued your relationship with IW?
Yes, I have continued my relationship with IncubatorWorks and look forward to the future events, programs, and relationships to be created that lie ahead. I appreciate their support of small business owners and creating an outlet for entrepreneurs to network and learn.
What advice would you give a small business owner considering IncubatorWorks business development program?
The business development program is highly recommended and worth every bit of the experience! The business insight, tools that you will learn, and a canvas to construct your idea will lead you to a successful business. As it was extremely helpful to have a genuine support system, work and learn from fellow entrepreneurs, and have the opportunity to grow your business. It has been a pleasure working with IncubatorWorks.
What advice would you give another entrepreneur running a small business during the pandemic?
A huge lesson I have learned when it comes to running any business, especially during a pandemic is knowing how to pivot and adapt to the constant changes. While a ton of things had to be rescheduled, shut down, and not knowing where to go next had called for innovation. The help from my team members and excellent supporters, bouncing ideas off of each other, became very helpful in learning how to pivot and expand. My advice would be to listen to your customers, learn how to pivot, and be open to changing how you operate so you can accommodate the demand within your business.
How has being a small business owner impacted your life? What inspiration can you offer to another?
Being a business owner has been a true blessing to share my passion for creating an outlet for people to make a difference within their community. As well as creating a positive example within the fashion industry to always pursue your dreams! As a female entrepreneur of two businesses the inspiration I can offer is the only thing stopping you is you. Always keep your head held high, surround yourself with those who are ready to support you in anything you do, and remain humble and confident.
Thank you, Emmi for sharing your story with us! Learn more about Runway for A Cause and how you can support their efforts on their website here.